The COVID-19 pandemic has had a huge influence on the economies of many countries, so much so that the current financial score of many brands now wears a new look, significantly different from what it was in the last fiscal year. The stock market seems to be running on pins and needles, with trades and businesses no longer in full swing as they used to be.
While some brands hit a new low during this period, others have been at the tailwind of the robust stock market, hitting astronomical figures in profits. To determine how well or not businesses have adjusted to the whims and caprices of the coronavirus pandemic, we have organized a study based on some industrial and retail giants.
This case study, based on fifty (50) large companies that maintained a market capitalization of over USD $10 billion before the pandemic highlights what areas of the economy were most hit, and which of these industries managed to stay afloat regardless. It also discusses whether the current state of the economy is only temporary or whether brands should prepare for a new normal.
For the purpose of this study, it is assumed that these companies started feeling the influence of the coronavirus pandemic on January 30, 2020, when the World Health Organization (WHO) announced Covid-19 as a global health emergency.
The Rise and Fall of Global Business Empires
A temporary phase? Yes? No? Whatever the case, it is difficult to ignore the fact that the modifications major commercial players are making on their business models are going to affect the world economy significantly.
Worthy of note is that most of the companies that have prospered during the pandemic have American and Chinese roots. Coincidentally, many big players in the US are also bearing the brunt of the pandemic, recording meager profits; and some of them, even losses.

In what is turning out to be a dismal year for many, certain technological giants have somehow flourished, plausibly due to the types of services and products they provide.
Even with governments imposing lockdown measures and ordering citizens to stay indoors, companies like Apple, Amazon, Facebook, PayPal, T-Mobile, and Alibaba have still managed to pull through the pandemic with ease, registering significant growth in the process, with the potential to maintain their high capitalization values even past the crisis.
According to the study, Zoom Video Communications Inc has enjoyed the largest increase in market capitalization, more than twice that of Tesla in second place. Interestingly, this number is still on the rise.
However, it remains to be seen if this trend will continue or there is a potential dip in market capitalization percentage lurking around for Zoom.[1] Eric Yuan, the CEO and founder of Zoom, has been touted as one of the best business leaders during the pandemic.
Tesla INC also received a major boost in market capitalization. A major contribution to the sudden spike was an announcement about a stock split made on August 11, 2020. Since doubling the number of shares doesn't necessarily translate to an increase in earnings, the evolution for the next period is uncertain.
NVIDIA Corporation, Pinduoduo INC, Shopify, Meituan Dianping, and DocuSign Inc, as well as the United Parcel Service, all had a decent increase in market capitalization, and are likely to keep that score steady for a longer-term compared to others on the list.
Online shopping and deliveries became essential during the lockdown, but it remains to be seen whether people will choose to do a significant part of their shopping this way in the post-pandemic period, or simply hurry back to brick-and-mortar stores as soon as the situation allows.
Another category of companies are those without any significant rise in market capitalization, but with the potential to maintain steady numbers or grow steadily considering their well-established market presence and strong consumer base. Among them are Tencent, Netflix, Adobe Inc, Thermo Fisher, Target, Costco Wholesale Corporation, Lululemon, Qualcomm, RingCentral Inc.
As for businesses like Abbvie INC and Danaher, the public response would become a huge factor in whether the rising trajectory will continue or dip in the near future. At this point, it is hard to tell which would be the case.

Taking a look at percentage drops, it's not so difficult to spot Occidental Petroleum Corporation with the biggest slump in market capitalization, a whopping 74% drop. The oil-producing giant is struggling to move forward, after repeatedly slashing its budget to avoid accumulating massive debts it could potentially incur due to the oil price crisis.
The Boeing Company is not left out either, placed only a few points shy off Occidental Petroleum Corporation. Between the efforts to bring back the Boeing 737 Max and the headache in solving the manufacturing issues of the Boeing 787 Dreamliner against a gloomy backdrop in the whole airliner industry this year, it's hard to say what 2021 will bring for this aerospace and defense giant.
Exxon Mobil Corporation is also on the other end of the spectrum, showing a significant drop in market capitalization by USD. In retrospect, it's not the company's first severe hit, and the fact that it's managed to bounce back indicates its resilience to possibly rebound once the current climate starts to clear away.
Numerous industrial and retail giants suffered huge drops of around 30-50% in market capitalization during the coronavirus crisis. Big corporations like EOG Resources, Wells Fargo & Co, Royal Dutch Shell (in the Netherlands), B.P. p.l.c. (in the U.K.), United Airlines Holdings Inc, American Airlines Group, Delta Air Lines, Kinder Morgan have declined by between 40 and 50%.
Others like Citigroup, Wynn Resorts, Equity Residential, Host Hotels & Resorts, Raytheon Technologies Corporation, Marriott International, Inc., Chevron Corporation, and MGM Resorts all saw a dip in their market capitalization by about 30 and 40 percent.
How A Shift in Consumer Habits Plunged Some Brands Into The Doldrums
The coronavirus pandemic was not only a health crisis but a black swan event that exposed the vulnerabilities of many companies and industries. Most of these companies were unable to cope with the shift in consumer habits, and not even clutch decisions by their management could save their faces. In one clean sweep, these industries lost a large fraction of their customers because they were unable to cater to the new needs of their customers.
This shift in consumer habits no doubt dealt a huge blow to some industries while ordering others to the forefront of things. The response of these businesses to the change in consumer habits is what separates those that flourished in this period from those who were hit hard by the crisis.
The tables below are a pictorial representation of how the response to a change in consumer habits split these fifty successful commercial giants into two halves. One half represents those who adjusted their markets to accommodate the new demands and are hence ahead of the curve while the other highlights brands who couldn't get a favorable market share because of the change in demand.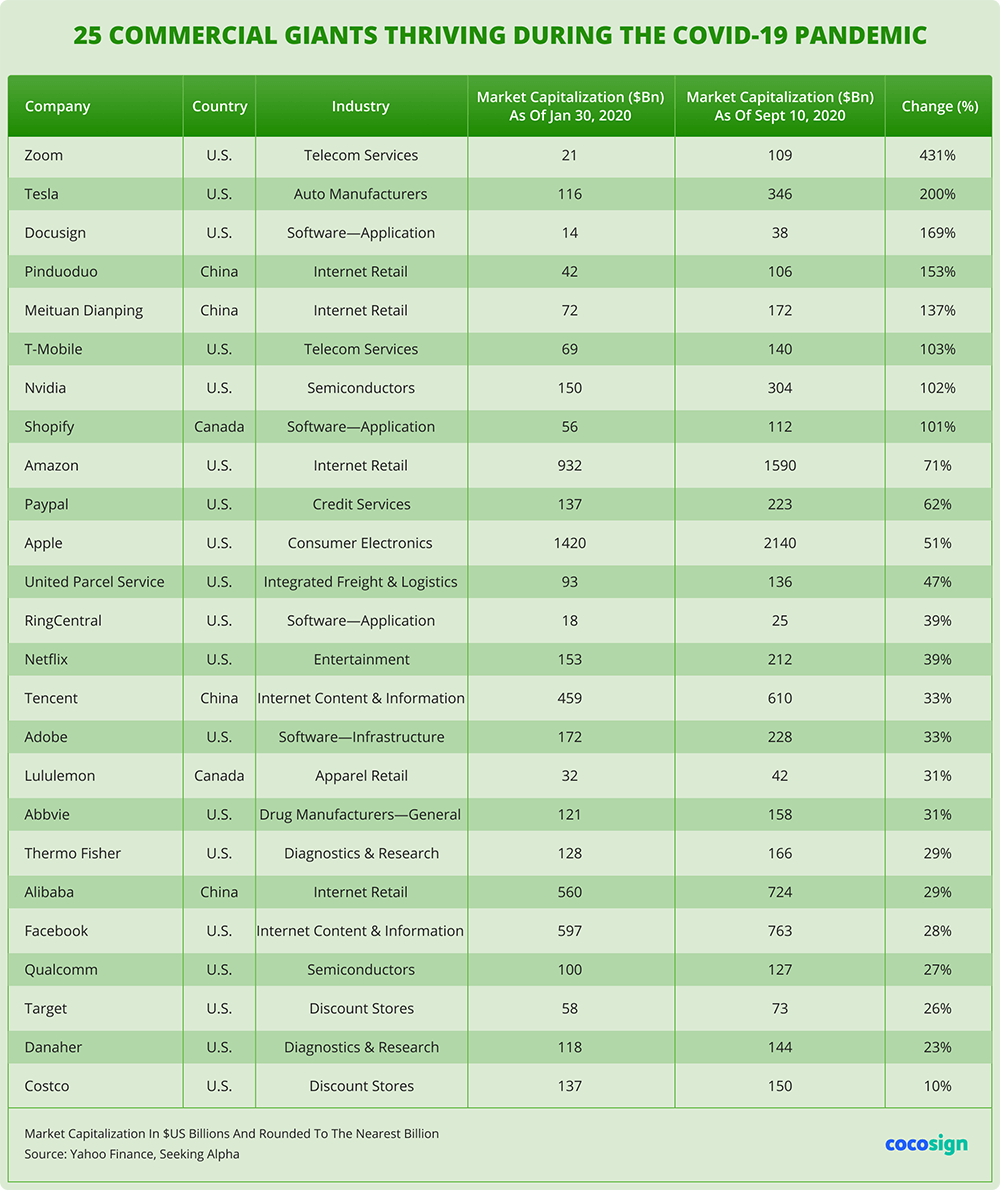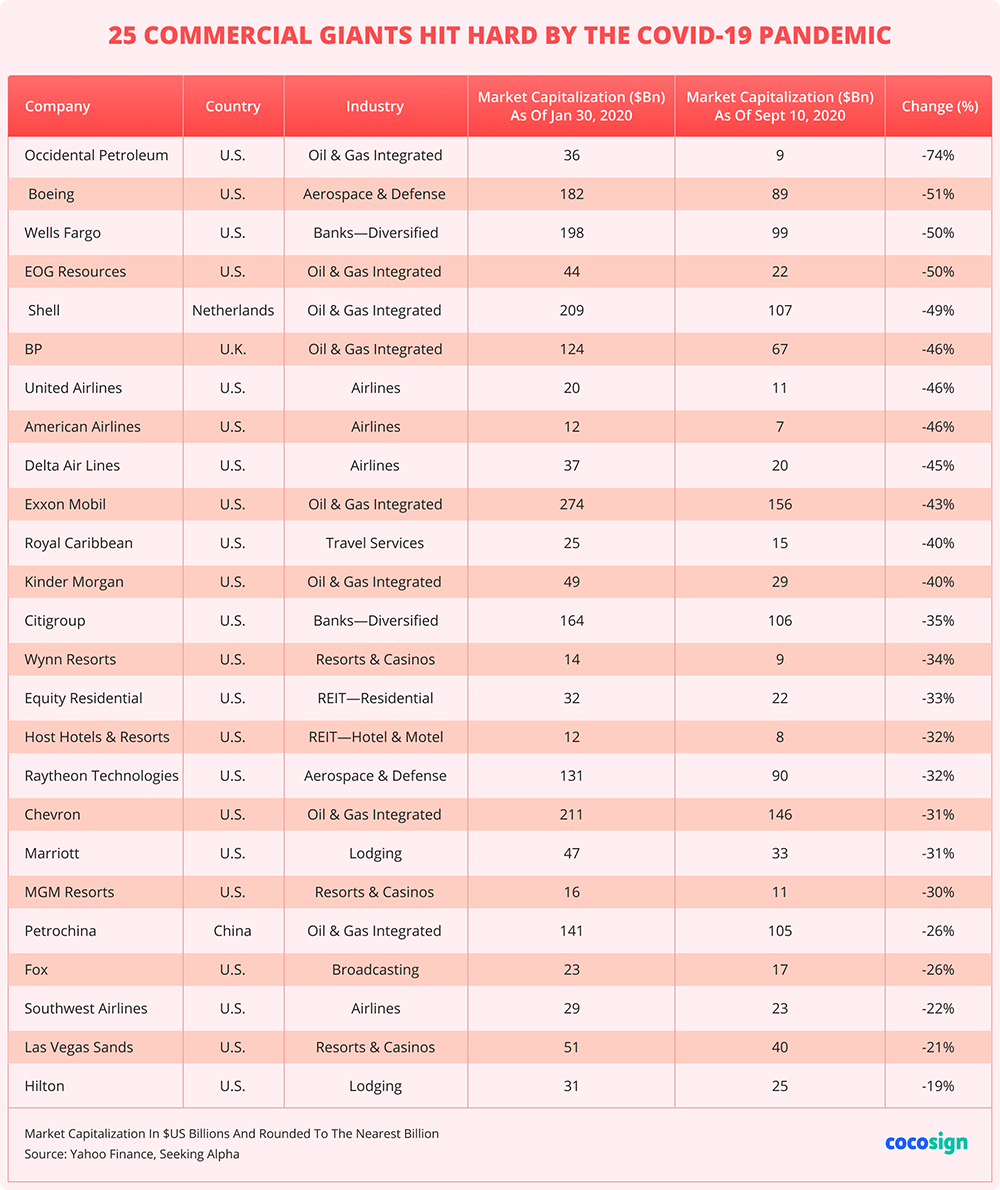 From the tables, we can deduce that:
Companies in the consumer cyclical and tech industries saw the most increase in market capitalization.
Most of the companies in the oil and gas industry saw a sharp drop in their market capitalization
Occidental Petroleum Corporation was the biggest loser (74%) in danger of collapsing at this rate.
Connecting with the change in consumer habits
The coronavirus crisis made a lot of companies reevaluate their business models. As the tables show, those who couldn't connect with this change in consumer habits are those on the red side of the spectrum while the greener half of the table houses either companies that this shift in demand favored or those that diversified to accommodate the needs of the consumers.
Were some companies naturally favored by this shift in demand?
Yes, Some companies were naturally favored by this shift in consumer habits. Prime examples are Netflix and PayPal. Since these brands are internet-based, movement restrictions and border closures couldn't affect their revenue or market capitalization negatively.
Since most workflows were restricted to online communications, companies that promoted online classes and video communications were bound to do well. Zoom, in particular, took the opportunity by the scruff of its neck and established itself as the best video communications software to be used for collaboration by work teams.
This was also the case for RingCentral. Their online meeting tool helped fill the blanks for work teams who worked remotely. For many was a more practical medium for transmitting urgent messages to other members of a project team.
The market capitalization of software companies like DocuSign and Adobe was also on the rise for the same reasons as RingCentral and Zoom. Using these platforms, members of a work team can collaborate better, sign documents online, and fax these documents to other signatories.
There were also significant jumps in market capitalization for medical suppliers, drug manufacturers, and research companies, boosted by funds from governments who are going all out in search of a COVID-19 vaccine.
Companies that failed to accommodate these changes in consumer habits
Some companies in the oil and gas industry as well as the traveling sector could hardly survive the crisis because of the kinds of products they produce. They also couldn't modify their modus operandi to accommodate systems that can help bolster their revenue.
Revenues in the oil and gas industry were downed by a significant change owing to a reduction in production and the current oil price crisis. Oil companies like Occidental Petroleum Corporation were the biggest victims. The oil giant is now wallowing so deep in the mud that they can potentially crash soon.
Traveling and accommodation services also suffered a huge hit. Airlines like The Boeing Company and American Airlines Group and hotel owners like Marriott International, Inc., were not spared either because of the sudden drop in demand.
Could diversification have helped these companies?
There are a few companies like Amazon that could have been held back by border restrictions but had diversified into other niches, making it easy to score a higher market capitalization value even in the face of the crisis. The e-commerce titan had earlier delved into hardware, payments, media, and data storage, and was, therefore, in the right conditions to flourish even when COVID-19 came knocking.
Amazon Prime video did pretty fine, rivaling Netflix for sales. The commerce sector of the brand didn't do badly either as the company focused on shipping essentials and groceries. This however came at a cost. The e-commerce giant championed by Jeff Bezos added 175,000 new employees to its existing workforce to handle demand in the period.
The Biggest Growths In Value During The Coronavirus Crisis
For a few major companies, the current context has proven extremely beneficial, and they registered a significant profit. Here are the Top 5 Highest Expansions in Market Capitalization in 2020: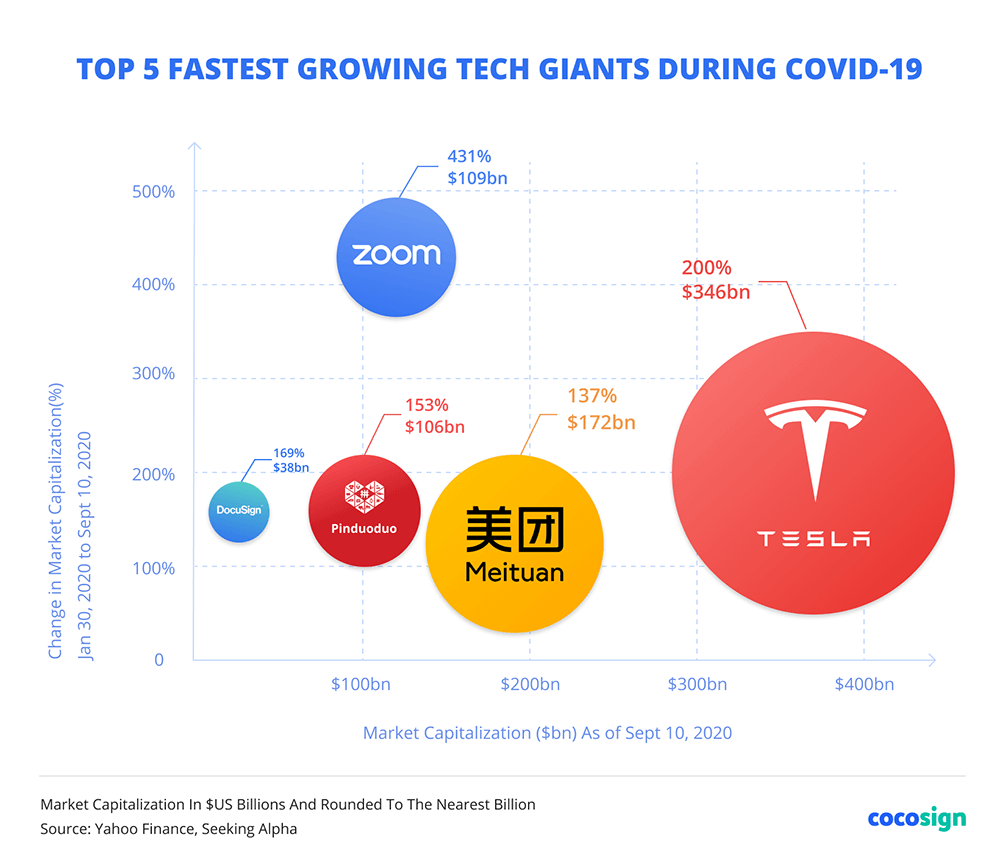 Of all the fast-growing companies during the COVID pandemic, Zoom Video Communications Inc made the most impressive progress. Offering a video communication platform, it provided exactly what people needed during this troubled period: a medium for face-to-face communication and organizing meetings for people from different locations in a single video meeting.
Founded in 2011 by Eric S. Yuan with the headquarters at San Jose, CA, the company found the path to success by focusing on the cloud architecture and using a highly efficient marketing strategy focused on what the market demanded. All of these paired with strong and efficient customer support helped Zoom top the chart.[2]
Tesla is another winner – in terms of market capitalization – during the Covid-19 pandemic. However, theirs is a peculiar situation as earlier highlighted. The decision to approve a five-for-one split in the soaring stock this year contributed to the sudden rise in market cap.[3] Still, Tesla will go into the record books as the auto manufacturer with the highest market value, despite being well behind its competitors when it comes to sales figures.
DocuSign Inc is in third place with an increase in market cap of 169%. In this case, the rise is justified since the company offers services that have become crucial for the business world during the pandemic. Electronically signing documents and handling business deals online is the new trend, but it's not just companies that benefit from these services. Individuals also need to store information and sign documents online safely. Founded in 2003, DocuSign is one of the companies that may maintain steady growth in the following period.[4]
Pinduoduo INC is no doubt one of the world's biggest commercial brands. Their market capitalization during the Covid-19 crisis is well justified given their area, experience, and customer loyalty. The e-commerce platform not only offers competitive prices but also has a group buys policy, making their prices hard to beat. Like David Liu, the vice president of strategy said in an interview[5], 'e-commerce actually played a big part in supporting and stabilizing' people's lives.
Meituan Dianping is another major shopping platform in China, focusing on locally found products and services. They have been on the market since 2010, and are on the mission to become the untouchables in service delivery just like Amazon is with products. Customers who use their apps and websites, depending on the services they need get deals and vouchers. [6] Number five on our list, Meituan Dianping, is also doing quite well, meeting and surpassing their financial projections.
Post-Pandemic Previsions – How Will the Market Change?
Making projections and developing programs and models to help the economy bounce back is no doubt going to be a tall order for governments and companies worldwide. It is still difficult to see which way the market will go when the crisis is over. As far as authorities are concerned, the main lesson learned is that there is a need to strengthen the sectors that were exposed as frail by the coronavirus pandemic.
As for the 50 major players that we included in this study, it is still difficult to predict what their situation on the market will be in the post-pandemic world. We would probably see some of the companies now recording huge profits start a slowly descending curve once things begin to settle down.
Some spikes in market caps we have seen are impossible to maintain, but that doesn't necessarily mean there will be a sudden drop in those figures as well. Some of these giants are building up new loyal clientele during this challenging time, and are likely to maintain a good position on the market in the future.
As far as the industrial and commercial giants are concerned, their future may be determined by the strength and resources they have to help them scale through the crisis unscathed. For the most part, the big drops in market capitalization are related to the sudden decrease in market demand. If that be the case, these companies are likely to bounce back once the lockdown restrictions are lifted. But for those that are currently facing severe drops, it's already a matter of survival.
The Covid-19 pandemic has surely created a shift in the way customers see certain services. People and companies have discovered that many operations can be conducted online, and they may want to restructure their activity even after things come back to normal. The progression into a new normal may reflect on the economy and we are poised to see a corresponding adjustment in market capitalizations.
Reference: